Happy rainy Tuesday!
I pray that you all made it safely home after work and conferences.
This Friday, November 11th we honor all veterans. Let us pray for them.
Prayer for Veterans
Father, bless our veterans and all who serve our nation defending our freedom.
For those who bravely gave their lives, grant them eternal rest.
For those who are serving, give them courage.
For those who served, we offer our gratitude.
We ask this through Christ Our Lord.
Amen.
Red Ribbon Week
We celebrate Red Ribbon Week this week.
Wednesday, November 9th- Day 3: Wear Uniform Wrong/ Wacky Wed. (colorful socks, colorful shirt, PE shirt with skirt, uniform inside-out)
Thursday, November 10th- Day 4: Free Dress (modest, school appropriate)
Friday, November 11th– No School! Happy Veteran's Day!
PTG Meeting Tonight
Please join us tonight for the PTG Meeting via Zoom at 6:30pm.
Topic: PTG
Time: Nov 8, 2022 06:30 PM Pacific Time (US and Canada)

Join Zoom Meeting
https://us04web.zoom.us/j/77086605499?pwd=K2Bb73c8BwxItKr3ShZp3Q8VLFDWwx.1

Meeting ID: 770 8660 5499
Passcode: SSA
PTG Christmas Ornament Fundraiser
The PTG has partnered with Sara Shayya of Formal Invites to sell Christmas Ornaments. Each ornament costs $20.
Click the link to see the ornaments and place your order.
Thank you for supporting SSA!
Friends of the Poor Walk
Our Annual Friends of the Poor Walk will be on next Friday, November 18th following the 8am Mass. Each child has a goal of raising a minimum of $25. Please use the sponsorship envelope to collect donations and record the donors.
In addition to sponsorships, students may bring in food for the food pantry.
Remember ALL proceeds will support our Parish St. Vincent de Paul Food Pantry. Students will be receiving a FREE t-shirt to wear for the walk!
Grandparents Day
We will be celebrating Grandparents Day on Tuesday, November, 22nd from 9:30- Noon.
We will begin with Mass in the Church at 9:30am followed by the students showcasing their love with songs about Joy. We are looking forward to seeing all the Grandparents. With parent permission Grandparents may take their grandchildren home at noon.
Facebook
Friend us on Facebook to see photos from Academy Events.
Winter Sports
We need a coach/coaches to coach the K-1 division. Please let us know.
Peewee Soccer:
https://docs.google.com/document/d/1y28m85FxXmBw8W_FcxmYYET3XNKHgwtwtn-MVhQ4Lzs/edit
Boy's Basketball:
https://docs.google.com/document/d/1u4IpukYSV7LsFv0Vti55NtQC2lfl5QWuLB5Lzh0fRcg/edit
Girl's Volleyball:
https://docs.google.com/document/d/1kJkR7SpiYiSZl2qmx-J4lCqhnfjVYDwKg_EYGV1-VFc/edit
Volleyball Champions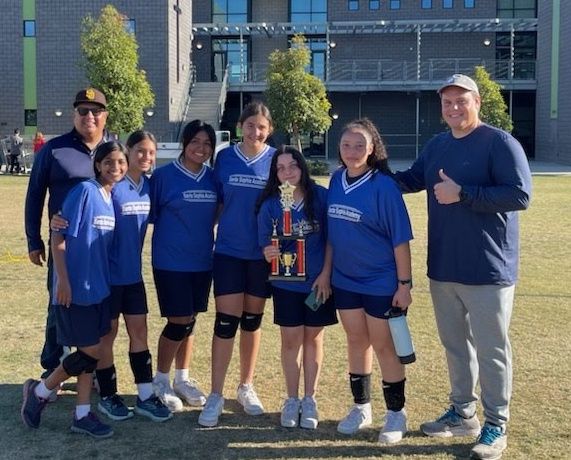 Congratulations to our Volleyball Championship of the Consolation Bracket. Over the course of a day the girls played 12 games against six schools. Way to go girls!
Flag Football
The playoffs are this Saturday, November 12th and our boys are playing for the Gold Championship. Keep them in your prayers as they play this weekend. Go SSA!
Calendar Update
November 8th- 1/2 Day- Parent/ Teacher Conferences
November 9th- 1/2 Day- Parent/ Teacher Conferences
November 10th- 1/2 Day- Parent/ Teacher Conferences
November 11th- No School! Veterans Day
November 18th- Friends of the Poor Walk
November 22nd- Grandparent's Day
November 23-25- Thanksgiving Break