Happy Tuesday!
This Sunday we celebrate the Solemnity of Christ the King. It marks the end of the Liturgical year. This feast reminds us that Christ is the King of the universe and we should put him first. Sound familiar? JOY- Jesus First!
We are encouraged to live our faith in Public not just in "safe spaces" like our homes and Church. How would someone know you are Catholic without you telling them? Do you pray before meals at a restaurant and use the Sign of the Cross? Do you say God bless you when someone sneezes? Do you tell people who share a need or a concern that you will pray for them? Do you say the Rosary when you are waiting in line? Are you kind and considerate? There are many ways to share your faith without saying a word. How can you model this for your children? We will begin the Advent season on November 27th. Is your home ready? Now is the time to pull out your Advent wreath and make sure you have your Advent Candles. Have you seen the flameless Advent Candles?
Greatest Baker Competition
Congratulations to Mrs. Enid Migault, Eden's mom, for being selected to participate in the Greatest Baker Competition. The winner of the competition will receive $10,000 and be featured in a 2 page spread of Bake from Scratch Magazine.
The winner will be selected by whoever has the most votes. Votes are FREE!
Vote once per day for free, or submit "hero votes" which are donations to the B+ Foundation supporting children diagnosed with cancer and their families.
Let's help her win!
Click the link to support!
Pizza Lunch

We'll be having a pizza lunch on Friday November 18. Order cheese or pepperoni slices for $2.50 per slice. Orders are due by 5 p.m. on Thursday November 17.



We need volunteers to help distribute lunch!
Friends of the Poor Walk
Our Annual Friends of the Poor Walk is
Friday, following the 8am Mass.
Students need to turn in their envelopes by Friday.

Students were encouraged to raise a minimum of $25.

Students are encouraged to bring canned goods to donate to the St. Vincent de Paul Food Pantry.

These can be any nonperishable but think of items you would need for a holiday meal: green beans, mashed potatoes, yams, stuffing, etc.

Students will wear their Friends of the Poor Walk t-shirt and either PE Shorts or uniform short on Friday.

Shirts will come home by Thursday.
Veteran's Day Breakfast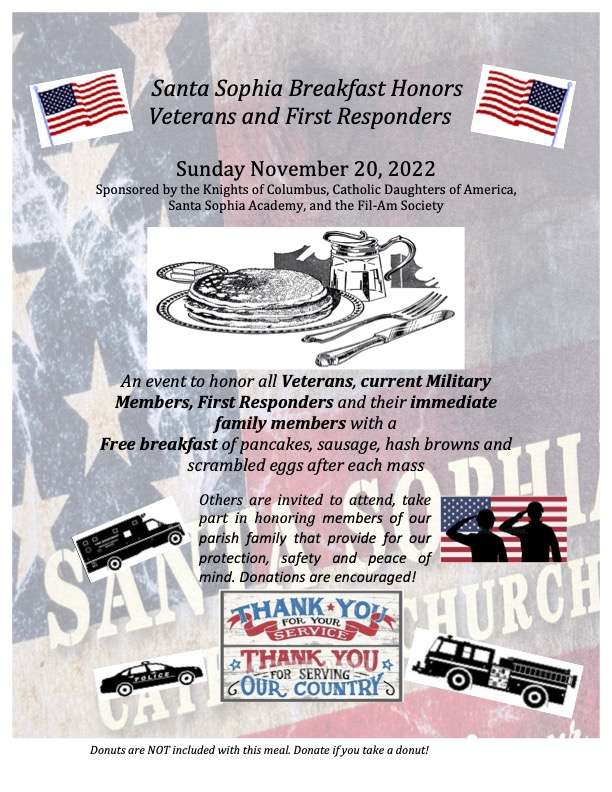 PTG Christmas Ornament Fundraiser
The PTG has partnered with Sara Shayya of Formal Invites to sell Christmas Ornaments. Each ornament costs $20.
Click the link to see the ornaments and place your order.
Thank you for supporting SSA!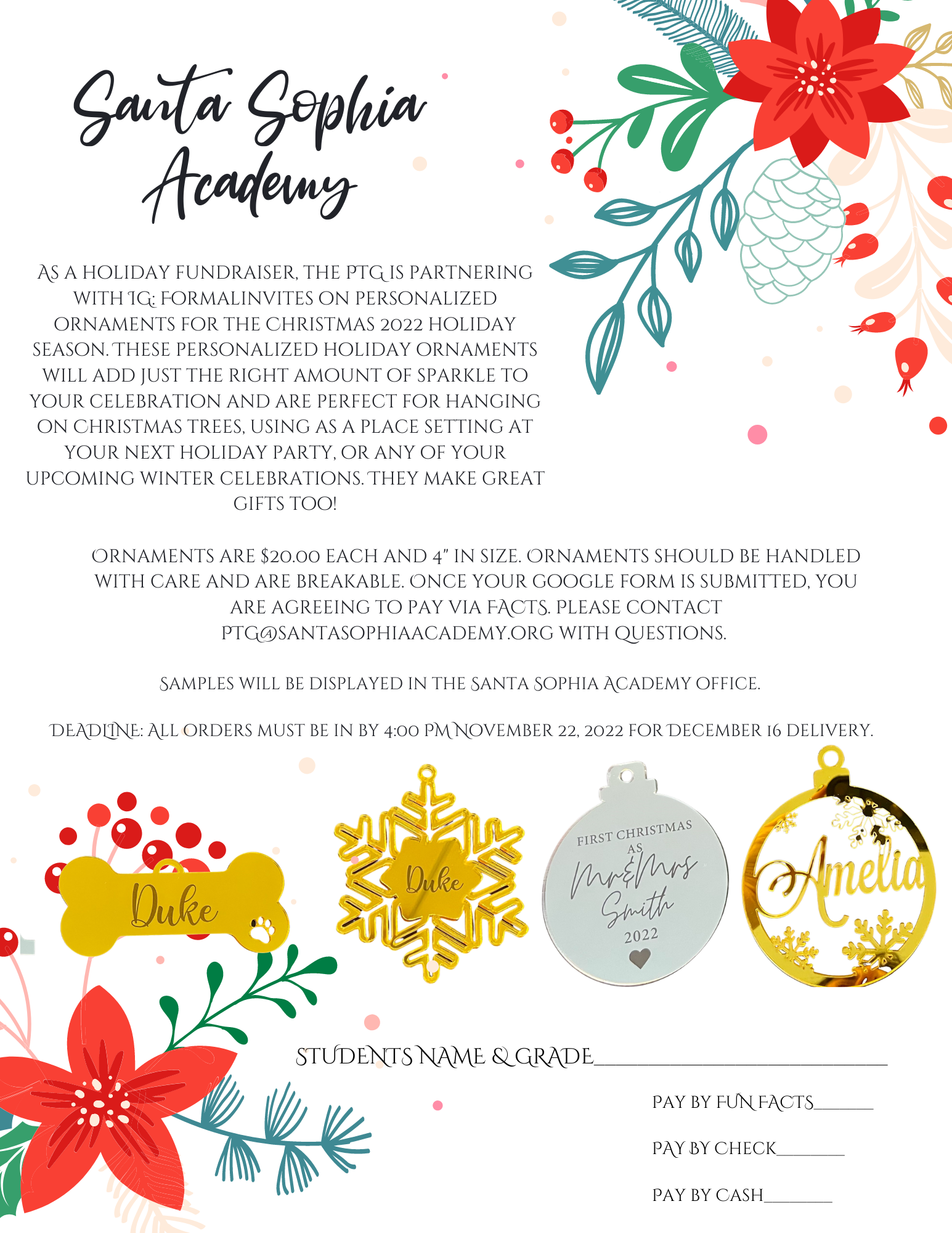 Grandparents Day
We will be celebrating Grandparents Day on Tuesday, November, 22nd from 9:30- Noon.
We will begin with Mass in the Church at 9:30am followed by the students showcasing their love with songs about Joy. We are looking forward to seeing all the Grandparents.
With parent permission Grandparents may take their grandchildren home at noon.
Car Show
The first one was so awesome, we are going to have a second one!
Join us on December 3rd from 12-3.
More information to come!
CHRISTMAS Program
Christmas is right around the corner. We will be celebrating the Christmas Program on Wednesday, December 16th, from 10:00 – Noon.
The program will begin in the Academy parking lot at 10:00am. During the Christmas program students will be showcasing their love with songs about Joy. We will also have games and treats. We are looking forward to seeing all the Parents. Please mark your calendars so you can plan on attending. This is a half day and the last day of school before Christmas break.
Debi Clarke is the chair for this event. Please contact her or your room parent if you would like to volunteer to be on the Christmas Program committee.
Facebook
Friend us on Facebook to see photos from Academy Events.
Winter Sports
We need a coach/coaches to coach the K-1 division. Please let us know.
Peewee Soccer:
Boy's Basketball:
Girl's Volleyball:
Boy Scouts
CATHOLICS IN SCOUTING
Catholic boys and girls are welcome in Scouting. Youth, ages 5 to 10, actively engage in Cub Scout adventures, with schedules designed to dovetail with your family's busy schedules. Older youth, ages 11 to 17, engage in activities and adventures in their Scout Troop – like camping, exciting day trips and engaging service projects. As parents or guardians, we want what is best for our kids – not just now but for the future. We want our kids to grow up to be good citizens and faithful Catholics. Scouting is a time-honored – and fun – way to support your efforts to raise your children to become responsible, well-rounded adults. Young people have the opportunity to earn religious emblems by completing faith-focused activities and projects. Scouting is a great way to encourage your kids to put down their electronics and engage in real-life activities that develop a wide range of skills, strengthen their values and help them grow in their Catholic faith – while having a ton of fun!
For additional information, contact Jim Brown at brownfamilybusiness@hotmail.com or TEXT to 619-248-4905.
Calendar Update
November 18th- Friends of the Poor Walk & Arts and Crafts Club
November 22nd- 1/2 day/ Grandparent's Day Mass @ 9:30am/ No EDC!
November 23-25- Thanksgiving Break
December 2nd- 1/2 Day/ Mass/ Adoration and Benediction
December 3rd- Car Show 12-3
December 5th- 9th- Christmas Shoppe (more information to come)
December 7th- Family Finance Night 6:30pm in the Hall
December 13th- PTG Mtg 6:30pm (Zoom)
December 16th- 1/2 day/ No EDC!/ Christmas Celebration 10-12
December 17-January 2nd- Christmas Break!
January 3rd- Back to School!
January 6th- 1/2 Day/ Mass/ Adoration and Benediction