Happy First Week of Advent!
Advent is such a wonderful time of year. We are preparing our hearts for Christ. This Sunday's readings were all about being ready. They reminded us that we do not know when the Lord will return so we must always be prepared. What are some things you can do to be prepared?
Spend time in prayer
Say the Rosary
Do an examination of Conscience
Participate in the Sacrament of Reconciliation
Attend Mass as often as you are able
Have a family Advent wreath and light the candles and pray together
Read a book to deepen your faith knowledge
There are many wonderful resources out there to support you as you strengthen your relationship with Christ. A few you might enjoy are:
AMEN app
Hallow app
iBreviary app
Family Rosary app
I pray you have an enlightening Advent.
Giving Tuesday
On this Giving Tuesday, I would like to that you for giving our school the best gift, your children. We are so blessed to have all of you as members of our community. Thank you for your continued support!
Family Financial Night
Looking to help your child understand the value of money and how to make it work for them? Join us on December 7th for a fun evening where you and your child will work through fun games to learn financial skills. Dinner will be provided!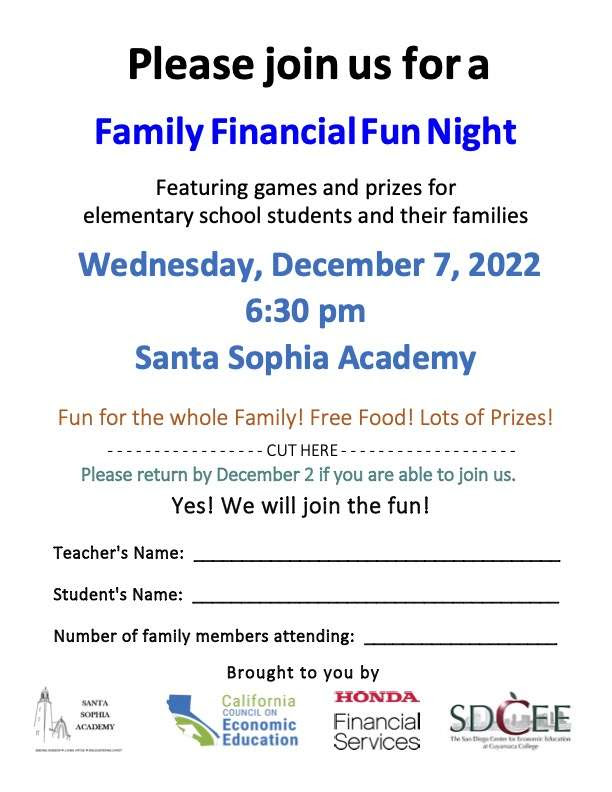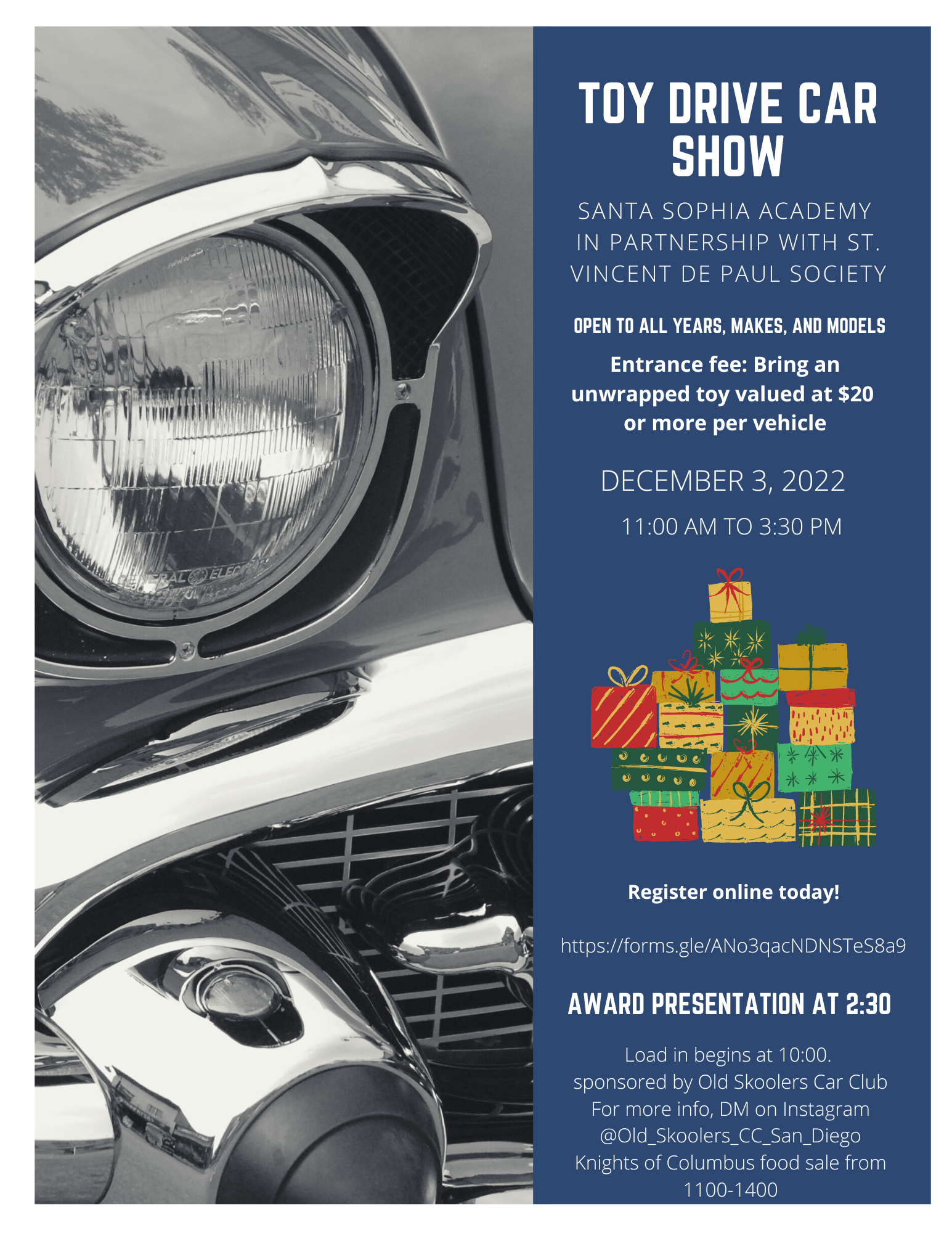 SSA Art Contest
I am excited for our first SSA Art Contest! If you child hasn't turned in their entry form it is due by tomorrow, November 30th.
All entries are due by December 5th with their submission form.
No late submissions will be accepted because the first round of judging will be on December 6th.
Christmas Shoppe
This year the students will have an opportunity to do some Christmas shopping for their family at school. Students will preview the gifts for sale on Monday, December 5th. Then they will have time to shop on December 6th-9th.
I am looking for volunteers to run the shop. Please click the link to volunteer.
Hot Lunch
We are so excited that hot lunch started this week. We are looking for volunteers to help pass out lunches to students. Please click the link to sign up to help.
Friends of the Poor Walk
WOW! What a great time the Academy students had walking for the poor! At the same time students were walking, people in need were picking up donated thanksgiving meals at the SVDP Food Pantry!
We are so blessed to have a community that cares for one another. Nearly $6,000 was raised ! Thank you Academy students and families for your extraordinary generosity!
"What God asks of us in particular is to have great care to serve the Poor, who are our Lords. Oh yes! They are our Masters."
-St. Vincent de Paul
Grandparents Day
Thank you to all the Grandparents who joined us for Grandparent's Day. It was an awesome day.
Greatest Baker Competition
Congratulations to Mrs. Enid Migault, Eden's mom, for being selected to participate in the Greatest Baker Competition. The winner of the competition will receive $10,000 and be featured in a 2 page spread of Bake from Scratch Magazine.
The winner will be selected by whoever has the most votes. Votes are FREE! Vote once per day for free, or submit "hero votes" which are donations to the B+ Foundation supporting children diagnosed with cancer and their families.
Let's help her win! Click the link to support! https://greatestbaker.com/2022/enid-migault
PTG Christmas Ornament Fundraiser
The PTG has partnered with Sara Shayya of Formal Invitesto sell Christmas Ornaments. Each ornament costs $20.Click the link to see the ornaments and place your order. https://docs.google.com/forms/d/1Sb7dybskAxwvVd6ybsue2obp0nnD8KwbxTc7eJobwIY/edit
Thank you for supporting SSA!
Christmas Program
We are looking forward to our Christmas Program on December 16th from 10-12.
Please mark your calendars so you can plan on attending. This is a half day and the last day of school before Christmas break. There will be NO EDC that afternoon!
We are looking for volunteers to support out event. Mrs. Clarke is the event Chair.
Please reach out to your class room mom or Mrs. Clarke to sign up to support.
Winter Sports
We need a coach/coaches to coach the K-1 division. Please let us know.Peewee Soccer:https://docs.google.com/document/d/1y28m85FxXmBw8W_FcxmYYET3XNKHgwtwtn-MVhQ4Lzs/edit
Boy's Basketball:https://docs.google.com/document/d/1u4IpukYSV7LsFv0Vti55NtQC2lfl5QWuLB5Lzh0fRcg/edit
Girl's Volleyball:https://docs.google.com/document/d/1kJkR7SpiYiSZl2qmx-J4lCqhnfjVYDwKg_EYGV1-VFc/edit
Boy Scouts
'I EARNED THIS': GIRLS ARE EARNING EAGLE SCOUT TOO!

You can be among the first girls in Spring Valley to earn Eagle! Frequent outdoor experiences, while having lots of fun, draw girls and boys to Scouts: "I love being outdoors!" Moms and dads love going on Scout monthly outdoor adventures with their daughters and sons doing camping, hiking, swimming and canoeing in the rivers, ocean, deserts, and mountains. At International Scouting events, Scouts make friends with youth from all over the world. Since Girls are in separate Troops from boys, they develop strong leadership skills by leading their own Patrol or Troop, and earn badges and honors through their own efforts. It takes at least 19 months to achieve Eagle, so now is time to start! At least 3 more girls are needed for Troop 355 to start a Troop for girls in 2023. If you have children or grandchildren, ages 5 to 17, now is a great time to become a Scout!
For additional information, contact Pat or Jim Brown at brownfamilybusiness@hotmail.com or TEXT to 619-248-4905
Calendar Update
December 2nd- 1/2 Day/ Mass/ Adoration and Benediction
December 3rd- Car Show 12-3
December 5th- All Art Contest Submissions Due
December 5th- 9th- Christmas Shoppe
December 7th- Family Finance Night 6:30pm in the Hall
December 9th- Arts & Craft's Club
December 13th- PTG Mtg 6:30pm (Zoom)
December 16th- 1/2 day/ No EDC!/ Christmas Celebration 10-12
December 17-January 2nd- Christmas Break!
January 3rd- Back to School!
January 6th- 1/2 Day/ Mass/ Adoration and Benediction