Happy Second Wednesday of Lent! 
This weekend the readings focused on the Transfiguration. During Lent we are called to be transformed through prayer, fasting and almsgiving. How can we chip away at the things that are blocking us from being the version of ourselves that God created? How can we model this for our children?
Please keep Rosemary, our Parish Sacristan, in your prayers.

Phones are Working
I am happy to report that the Academy phones are finally working. The Parish phones are still down. If you need to contact the Parish, please stop by or email them.

Fire Panel
Monday, we had an impromptu fire drill when the installer was replacing our fire panel. It was a great practice and the students did a wonderful job knowing what to do.

No School
Remember that there is No School Friday, March 10th or Monday, March 13th. 
Track and Field 
Sign ups are still being accepted for track and field. Forms are in the Academy office. 

Time Change
Remember that this weekend is Daylight Savings. Remember to turn your clocks forward 1 hour.

It's time to reenroll for next year!
Please login to your FACTs Family Portal to reenroll for next year.
We are looking forward to everyone returning! 

Opportunity Drawing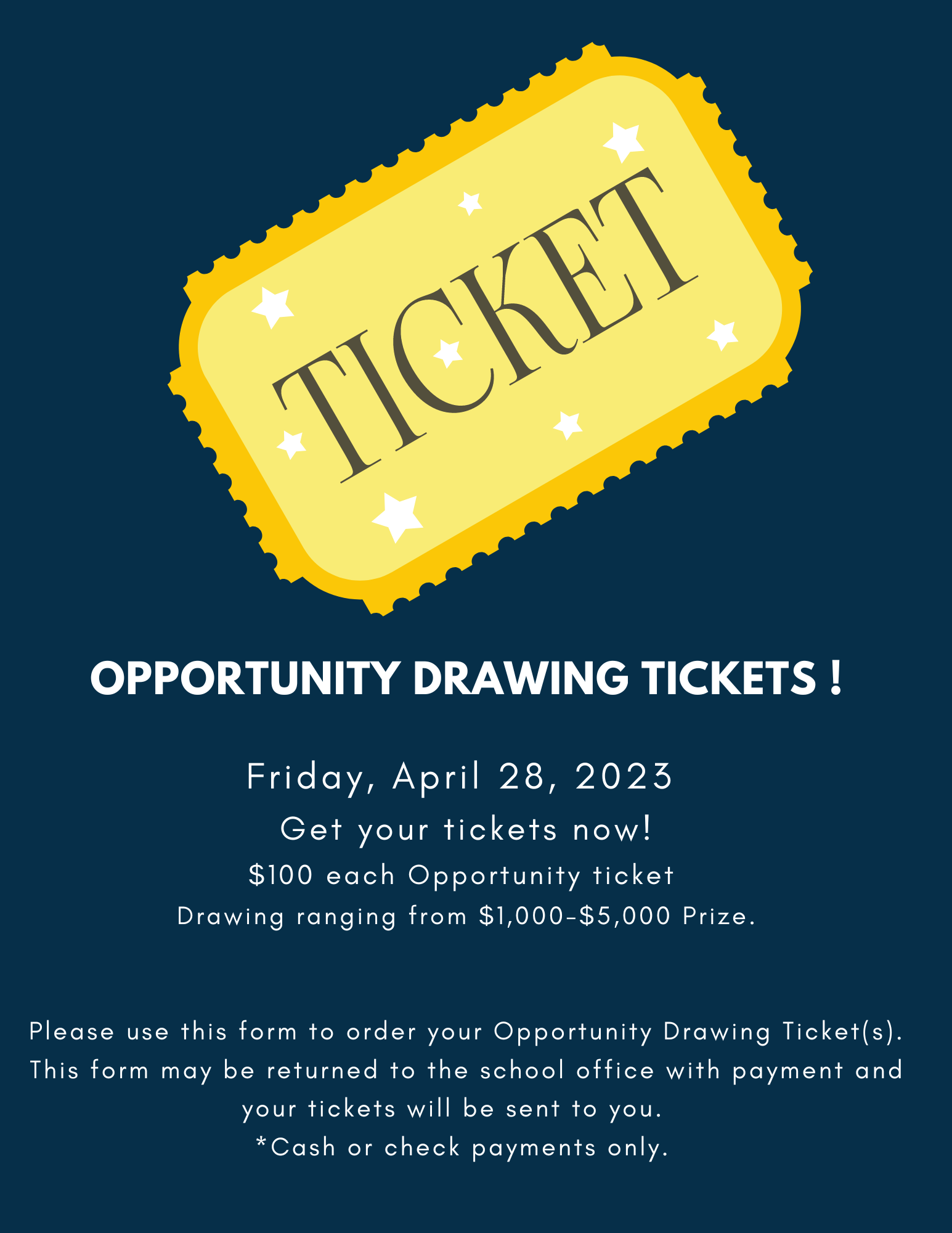 Bow Ties and Diamonds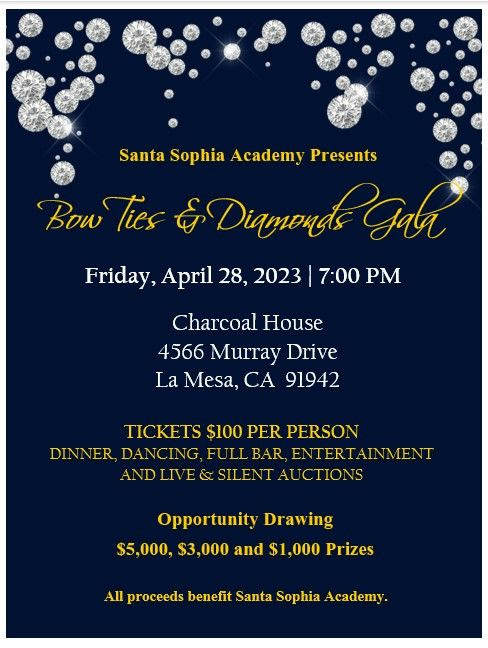 Gala Donations
You should have heard from the class room mom by now about donations towards the class basket for the Gala Auction. Please support! 

Volunteer Needed
We are looking for an Auctioneer for the Gala. If you or someone you know is interested please contact the Academy Office. 

Summer Camps at Santa Sophia
The Parish will be offering 4 camps this summer. Registration will begin on Monday at the PARISH OFFICE.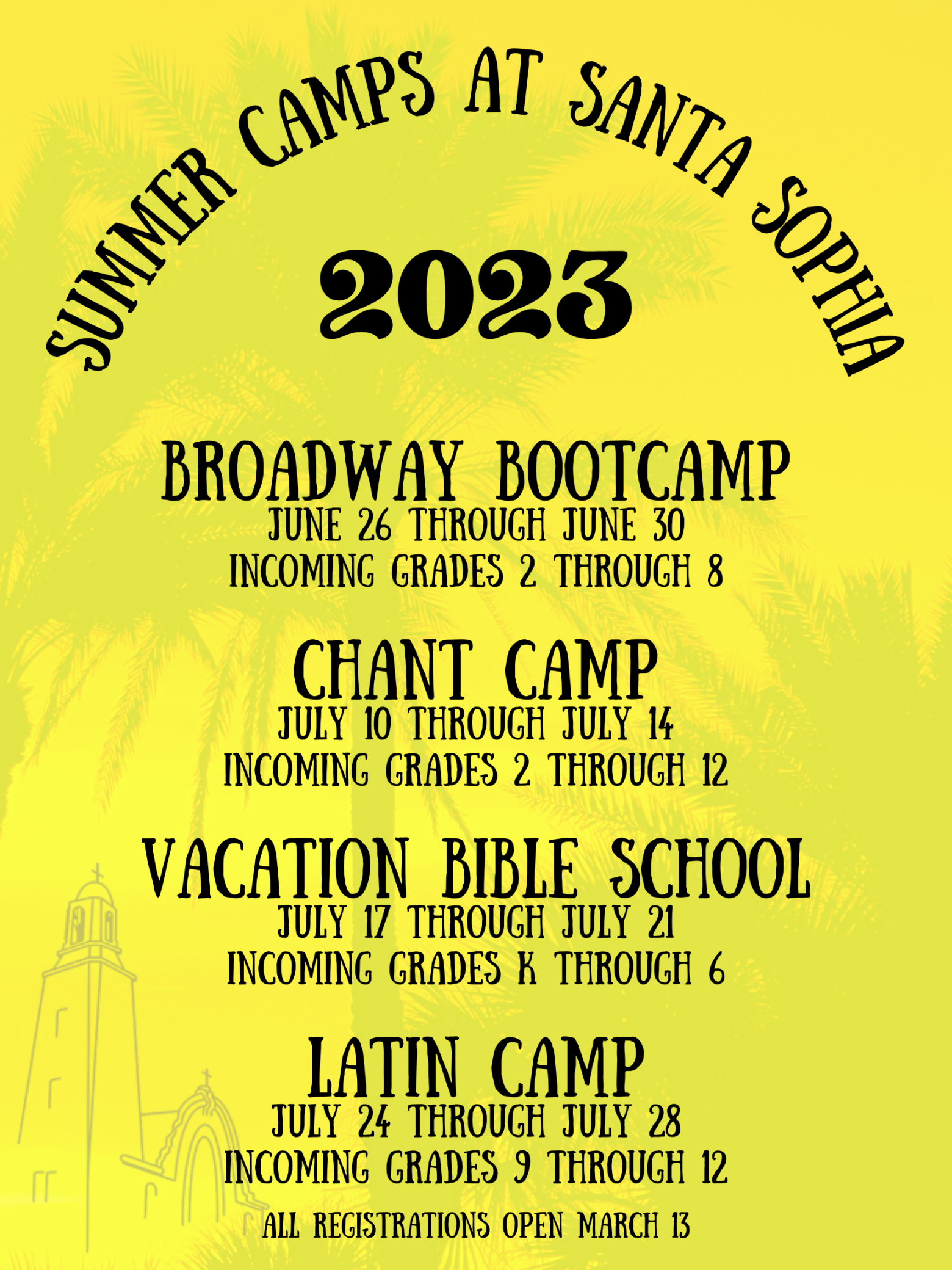 Catholic Sports League
You are invited to join an 18-39 soccer league co-ed team hosted by Catholic Sports —https://catholicsports.net/
Santa Sophia parish has sponsored one team, so your registration fee is covered by the parish if you decide to join before all these spots are taken.
Please send your email address to the following address if you would like to join:YoungAdults@santasophia.org
Game Days (Saturdays), 8:30am to 12:30pm at the Santa Sophia Field
March 25April 1April 8 –
Bye week
April 15
April 22
April 29 — Quarter
May 6 — Semi
May 13 –  Final
Once the spots on this free team are taken you will have to register and pay for yourself by joining another team.
Calendar Update
March 6- 
March 7-
March 8-
March 9- Stations @2pmMarch 10- No School! 
March 13- No School! 
March 14- 
March 15-
March 16- Stations @2pmMarch 17- St. Patrick's Day/ Mass @8am/ Spirit Day $1